Apparatus and techniques that the practical must use or cover

Use of appropriate apparatus and techniques to draw, set up and use electrochemical cells for separation and production of elements and compounds.

Use of appropriate qualitative reagents and techniques to analyse and identify unknown samples or products including gas tests, flame tests, precipitation reactions, and the determination of concentrations of strong acids and strong alkalis.

Risk Asessment
As a general rule, eye protection (goggles) must be worn for all practicals.
| hazard | possible harm | precaution |
| --- | --- | --- |
| copper sulfate solution | skin and serious eye irritation | wear gloves |
| DC electric supply | electric shock | switch off apparatus before touching, ensure electrodes do not ever touch |
| chlorine gas | toxic, harm to health | switch off apparatus after a few minutes, do not stand directly over the reaction, make sure the room is well ventilated |
This risk assessment is provided as an example only, and you must perform your own risk assessment before doing this experiment.
Apparatus
Each group will need:
low voltage supply (0‐12 V)
connecting leads
crocodile clips
two small test tubes (gas collecting)
matches/splints
blue litmus paper
100 ml beaker
stop watch
2 graphite rods
copper chloride solution
sodium chloride solution

Experiment Set-up
copper chloride solution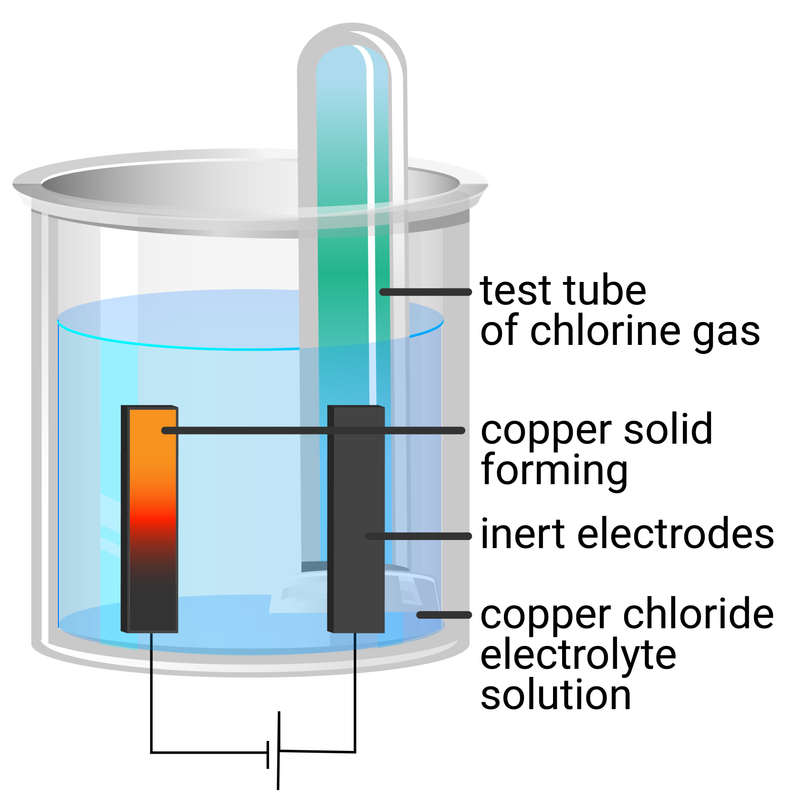 sodium chloride solution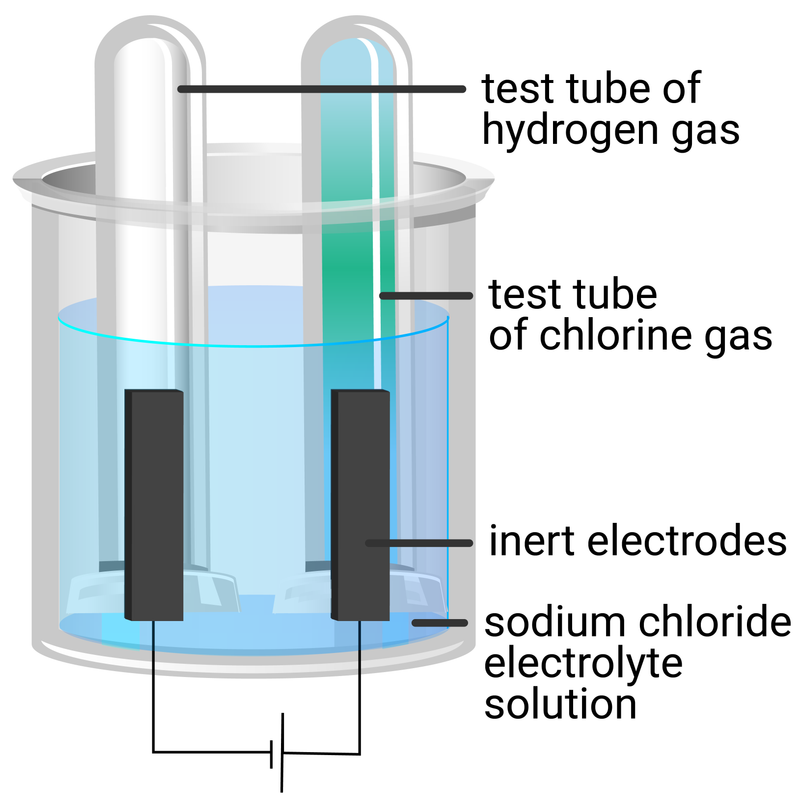 Method
use a measuring cylinder to add 40 ml of copper chloride solution into a beaker

place two graphite rods into the copper sulfate solution - attaching one electrode to the negative terminal of a dc supply, and the other electrode to the positive terminal

place two small test tubes over each electrode to collect any gases produced

turn on the power supply and observe what happens at each electrode

test any gas produced by holding a piece of blue litmus next to the electrode, or by holding a lit splint next to it

record your observations and the results of your tests

rinse the electrochemical cell apparatus and collect a new set of electrodes

repeat steps 1‒6 using sodium chloride solution

Results and Analysis

solution used
negative electrode (cathode)
positive electrode (anode)
observation
element produced
observation
element produced
copper(II) chloride
brown solid forms
copper metal
pale green gas produced
chlorine gas
sodium chloride
colourless gas produced
hydrogen gas (squeeky pop test)
pale green gas produced
chlorine gas (blue litmus test)
Descibe the tests for both hydrogen and chlorine.
Explain why copper was deposited at the cathode for copper(II) chloride, but hydrogen gas was produced for sodium chloride.
Higher Tier - Write half equations for each of the electrodes in both experiments.
Exam Question and Model Answer
A student conducts an investigation to find out what is produced during the electrolysis of sodium sulfate.
Describe how the student could carry out an investigation, and show (using ions) what is given off at each electrode.

[6 marks]

Level 1 (1-2 marks)

Add sodium sulfate solution to a beaker, and connect two electrodes to a power supply.
Completely fill two small test tubes with sodium sulfate solution and position a test tube over each electrode, then turn on the power supply and observe what happens at each electrode.

hydrogen gas will form at the negative electrode
oxygen gas will form at the positive electrode

Level 2 (3-4 marks)

Wearing safety glasses, add sodium sulfate solution to a beaker, and connect two inert electrodes (make sure they do not touch) to a power supply.
Completely fill two small test tubes with sodium sulfate solution and position a test tube over each electrode, then turn on the power supply and observe what happens at each electrode.
Any gases produced can be collected in the test tubes and tested (squeaky pop test - hydrogen, relight a glowing splint - oxygen).

hydrogen gas will form at the negative electrode
oxygen gas will form at the positive electrode

Level 3 (5-6 marks)

Wearing safety glasses, add sodium sulfate solution to a beaker, and connect two inert electrodes (make sure they do not touch) to a power supply.
Completely fill two small test tubes with sodium sulfate solution and position a test tube over each electrode, then turn on the power supply and observe what happens at each electrode.
Any gases produced can be collected in the test tubes and tested (squeaky pop test - hydrogen, relight a glowing splint - oxygen). 

hydrogen gas will form at the negative electrode:   2H+(aq) + 2e- → H2(g)
oxygen gas will form at the positive electrode:   4OH-(aq) → 2H2O(l) + O2(g) + 4e-